From training grants to mentorship, there are resources available to help you build your workforce. Look through the information we've gathered below.
Join the I Build NH email list for workforce resources sent right to your inbox. Still have questions? Email us, communications@abcnhvt.org and we'll be in touch.
Registered Carpentry Apprenticeship
The ABC NH/VT Registered Carpentry Apprenticeship will help address a critical workforce shortage by connecting employers with individuals interested in learning a trade. Learn more
Share Your Job Openings
We'll share your open positions on our social media channels. Click here to send us your open positions. 
Tax Credits
Companies may get a rebate off their business profit tax for working with a CTE program. Click here for more info. 
Training Grants
Investing in talent is vital to sustainable business growth and employee retention. Browse grant opportunities.
FAQ: Youth on the Jobsite
Frequently asked questions about employers having youth on the jobsite. Click here for this resource we put together to help employers. 
Ways to Get Involved
Find out how you can get involved with your future workforce. Click here
REACH OUT TO LOCAL SCHOOLS TO MAKE CONNECTIONS
Network with Career & Technical Education Centers for future workforce needs.
Find a CTE Center Near You
ADULT EDUCATION & CAREER CENTERS
Supporting adults who have not received a high school credential, do not have the academic skills equivalent to a high school diploma or who do not read, write or speak English.
Locations | List of Approved Career Schools
CAREER & TECHNICAL EDUCATION (CTE) CENTERS IN NEW HAMPSHIRE
CTE's offer middle and high school students the chance to explore careers and receive experiential and technical training that prepares them for their futures.
Why CTE? | Parents and CTE | Find a CTE Center Near You
COMMUNITY COLLEGE SYSTEM OF NEW HAMPSHIRE
Offering academic programs in Berlin, Claremont, Concord, Keene, Laconia, Lebanon, Littleton, Manchester, Nashua, North Conway, Portsmouth, and Rochester.
About CCSNH | View a List of Programs at All Campuses 
---
AWATO
Are you looking to connect with your local High School and/or Career & Technical Education Centers? Click here to learn more and to get connected.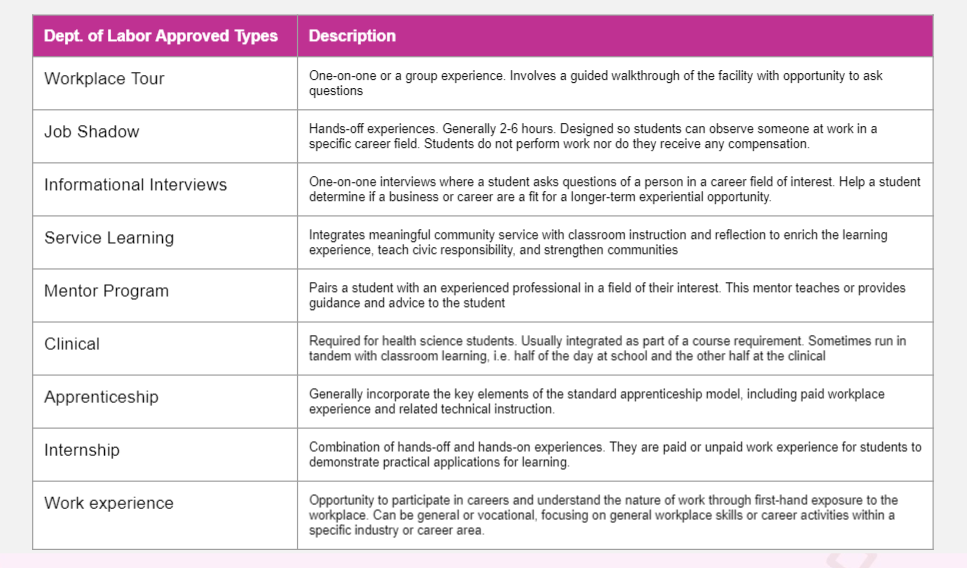 ON THE JOB TRAINING (OJT)
Finding skilled workers can be a challenge. OJT provides reimbursement to employers to help compensate for the costs associated with upgraded skills training and loss of production for newly hired employees. OJT training can assist employers who are looking to expand their businesses and who need additional staff trained with job specific skills.
OJT employers may receive 50% wage reimbursements up to $3,500 during the training period (up to 6 months) of OJT trainees to help defray personnel training costs.
The Job Training Fund, the NH Department of Business and Economic Affairs team of Business Resource Specialists and the NH Manufacturing Extension Partnership can also provide assistance to train workers and create new opportunities for growth.
Download the Brochure
TRAINING GRANTS & TAX CREDITS
Your employees are your greatest asset, and investing in talent is vital to sustainable business growth and employee retention. Whether you are looking to train new apprentices, current field employees, office staff or leadership, you can save valuable training dollars through grant opportunities. Learn how you can apply for up to 50% off your training programs and pply now for up to a 50% reimbursement on training programs!|
Learn More
WORK EXPERIENCE PROGRAM (WEP)
The Work Experience Program (WEP) offers work experience opportunities to individuals who are receiving financial assistance from the state.
By becoming a WEP work host, non-profit organizations, community agencies, or businesses can provide work experience to WEP participants who are looking to develop new skills. WEP participants are provided an opportunity to gain the experience needed for a successful transition to paid employment.
As a WEP work host, your organization can provide an individual with experience needed to get a job while at the same time easing your own staff's workload. A WEP participant can also provide you with an opportunity to observe, first hand, a worker's skills for consideration for a future paid position.
WORKFORCE INNOVATION & OPPORTUNITY ACT (WIOA)
The Workforce Innovation & Opportunity Act (WIOA) provides eligible adults with professional career counseling and access to a wide range of employment and training related services. This helps participants increase their earning potential and helps NH employers meet their workforce needs. Eligibility varies, so we encourage you to contact your local WIOA Career Navigator.
WIOA Career Navigators may provide the following services at no cost:
Occupational Skills Training through a catalogue of over 800 classroom-based trainings that can lead to an industry recognized credential
On-the-Job Training to create the opportunity to be hired by an employer with hands-on training, allowing the employee to "earn while they learn"
Support Services for additional assistance such as transportation reimbursement, child care reimbursement, uniforms, tools and other emergency services may be available to help eliminate or lessen barriers that prevent participation in a full-time training program
Vocational Assessments to help identify skills, interests, abilities and potential barriers to employment
Job-Market Outlook on the local labor market and in-demand occupations within New Hampshire
Career Path and Employment Plan Development to help guide that process
Educational Services and Skills Advancement in areas such as ESOL, HISET preparation, basic reading, math, and computer literacy
Job Search and Readiness Activities including development of interviewing skills and resume writing